Defense Against Weapons
Do It Yourself
American BadAss Survival Series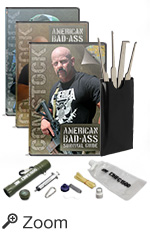 American BadAss Survival Series
Instructor: Dale Comstock
SKU: BAKIT $199
In our Bad Ass Survival series, retired Green Beret and Delta Force Operator Dale Comstock gives you the knowledge and training you need to survive an honest to God meltdown situation. During his time in the military he was often operating in a small group in hostile territory with limited logistical support. As a security contractor after his retirement he spent many months embedded in enemy territory, again with limited resources.
[1 HFC1500 Water Filtration Kit, 1 Survival Lock Pick Kit, 9 DVDs, 11hrs.]




More Information
First Page Previous Page > >>>
Call us at 1-800-899-8153