Defense Against Weapons
Do It Yourself
View All Products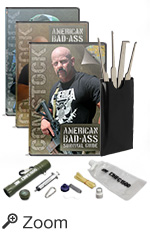 American BadAss Survival Series
Instructor: Dale Comstock
SKU: BAKIT $199
In our Bad Ass Survival series, retired Green Beret and Delta Force Operator Dale Comstock gives you the knowledge and training you need to survive an honest to God meltdown situation. During his time in the military he was often operating in a small group in hostile territory with limited logistical support. As a security contractor after his retirement he spent many months embedded in enemy territory, again with limited resources.
[1 HFC1500 Water Filtration Kit, 1 Survival Lock Pick Kit, 9 DVDs, 11hrs.]




More Information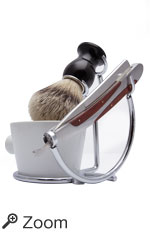 The Boss Shave Kit
SKU: ZBOSS $300.00
Classic style 5/8th inch concave high carbon stainless steel razor with a 16-degree bevel. The leather strop constructed from quality leather; one side cleans nicks and burrs while the other polishes the blade. The kit includes a badger hair brush, a rich-lather shave soap cake, a ceramic mug and stainless steel stand.
1 Boss 5/8ths Straight Razor, 1 Leather Strop, 1 Soap Cake, 1 Ceramic Mug, 1 Stainless Steel Stand, 1 How-To Manual, 1 How-To Video




More Information
Call us at 1-800-899-8153